PARTNERSHIP MAKING A DIFFERENCE IN HAITI!
The WASH Rotary Action Group makes a $25,000 cash donation to HANWASH. This gift is truly an amazing gift is changing lives in Haiti! Thank you to the WASH Rotary Action Group for this and everything they have done for us over the years.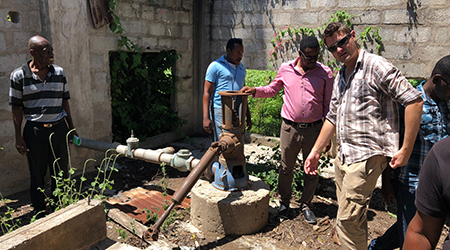 The History of WASH-Rotary Action Group and our great Partnership
WASH-Rotary Action Group had its origin at a meeting of Rotarians in Houston in 2007 where Past District Governor Ron Denham was speaking on water and sanitation. The directors of Rotary International had recently approved the formation of "Rotarian Action Groups." One of the members present at the meeting was Frank Devlyn, Past President of Rotary International. He proposed the formation of a "Water & Sanitation Rotarian Action Group" the motion was passed unanimously and the group was on its way.
The Directors of WAS-RAG agreed on the following mission statement: "To provide information, support and encouragement to Rotarians, Rotary Clubs and districts to take active roles in projects/programs to develop safe water and sanitation as a means of promoting health and alleviating hunger".
Two aspects of this statement are significant. First, WASH-RAG does NOT implement projects: it supports others–financially, with resources or technology, leveraging its resources. The second significant aspect: "a means of promoting health and alleviating hunger" implies that WASH-RAG focuses on outcomes and impacts, not outputs. WASH is a means to an end, not an end of itself.
WASH-RAG's relationship with HANWASH
Members of WASH-RAG have played a leading role in HANWASH from the early stages. Neil Van Dine, Omar Keith Helferich, Chris Etienne, Mary Beth Growney Selene, Julia Phelps, Carolyn Meub, Ron Denham, Wade Nomura, "Big Rich" Churchman, all members of WASH-RAG, are helping HANWASH in various ways.
One way WASH-RAG assists HANWASH is through its fund to encourage clubs to submit Global Grant applications for review prior to submitting to TRF. Any club so doing receives a $2000 donation.
HANWASH Executive Director Ryan Rowe says, "This financial support from WASH Rotary Action Group comes at a crucial time as the HANWASH team builds the systems it needs to support its work with locally elected officials and WASH authorities throughout the country. Rotarians in Haiti are drumming up demand for safe, sustainable, and affordable WASH in communities small and large and we are there for the long-term to support in building the future of Haiti. Many thanks to WASH RAG for their $25,000 cash donation and their $2,000 contribution on our recent Global Grants. I am also truly grateful for the steadfast commitment and volunteer service of numerous members and WASH Rotary Action Group leaders since HANWASH first began its work in 2018."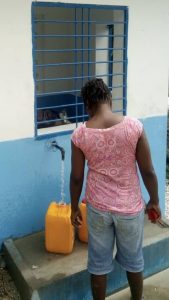 The HANWASH and WASH-RAG partnership is bringing clean water to Haiti and for that the citizens of Haiti are grateful!