Cavaillon 3 Global Grant Submitted – Thanks to our supporters!
We are delighted to announce that the Cavaillon 3 Global Grant has been submitted for approval to Rotary International. Many thanks to all those who helped this grant come to fruition; PDG Don Thomas, PAG Jean Robert Carrie and PDG Sandra Hemstead really led the way. The HANWASH program in Cavaillon is inspiring Haitians who dream of a better future.
What does this third grant mean for this region of Haiti? This Global Grant will be the third in Cavaillon in partnership with HANWASH and is focused on rural water supply and sanitation.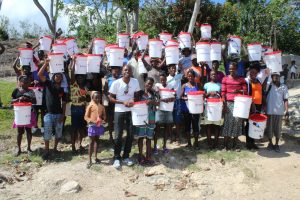 The first Global Grant in Cavaillon resulted in four communities being engaged under the HANWASH model, and four wells being constructed, serving approximately 1,000 people.
The second Global Grant in Cavaillon is currently being implemented and is focused on the rehabilitation of the water supply system serving the urban population centre of Cavaillon in the commune.
The third Global Grant in Cavaillon is focused on 9 rural villages that lack WASH services per the Commune Action Plan. The grant will initially focus on improving hygiene awareness in each village, then moving that community to at least 85% sanitation coverage before finally delivering a water supply solution. Haiti Outreach will undertake its assessment process and engage the communities' citizens. Sustainability of the new wells is established through a comprehensive 3-4 month preparation period where Haiti Outreach works with the villages to organize and train a volunteer water management committee and begin to transform the view of the population from "getting a well" to becoming a "clean community".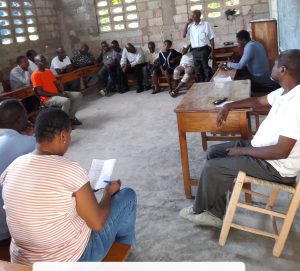 A separate component of this Grant also aims to understand the aquifers that supply the groundwater that serve many towns and villages within the Commune of Cavaillon. The proposed activities aim to understand where, when and how much aquifer recharge is occurring locally. The data to support this kind of analysis in Haiti is scarce, so data collection is a key part of the project.
Recharge mapping and analysis will:
1. Inform us on the origin of the waters
2. Pinpoint specific locations that are important for protection and enhancement
3. Disseminate the resource knowledge and planning model to key community and stakeholders
4. Provide access to planning models that will direct informed decisions for future investment in the community and watershed
This component also fits into the national priorities of the Ministry of Environment and has been discussed and generally supported by representatives of the ministry.
Hanwash and it's partners and supporters are changing lives in the Cavaillon region of Haiti. Once again, thank you for being a part of our mission. We look forward to keeping you updated on this project and future ones.